Nutts Performance Classics have the pleasure of offering for sale this beautifully restored MK2 Lotus Cortina in Anchor Blue. This is a very original looking car and by far the best useable example I have seen. I believe VAL 700G is known to the Lotus Cortina register and has been owned by a good customer of ours since Aug 2008. We re-commissioned the car in December last year including a new clutch kit and slave cylinder, engine service and full rolling road tune plus a new mot. Since that time the car has been used once where the owner took it to a local show but since decided to sell to ill health.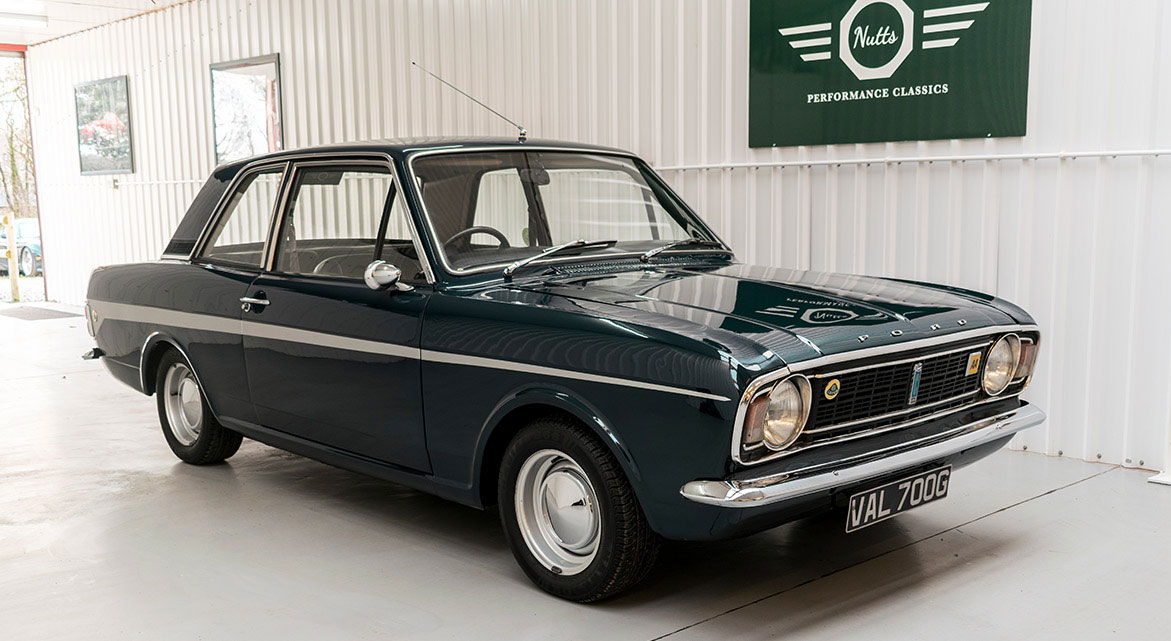 The car has undergone an extensive restoration by a previous owner who took the car off the road in circa 1998 and spent over 5 years restoring it and making it what it is today. I have an extensive photographic record of 90+ images including all bills and receipts for parts replaced, rest assured there are no hidden horrors under the paintwork, any bad areas were cut out and repaired correctly. Receipts show that £2500 was spent on panels alone. A list of the panels replaced includes rear valance, right hand A post, Right hand hinge pillar, Front valance, RH headlamp panel, LH headlamp panel, RH rib, LH rib, 2x headlamp bowls, RH inner wing repair, LH inner wing repair, RH reinforcement, LH reinforcement, slam panel, closing panel, LH A post, LH hinge pillar, LH outer sill, LH rear lower corner, RH outer wheelhouse, LH outer wheelhouse, spare wheel well, LH arch repair, RH inner sill, RH jacking point, RH drip rail, LH drip rail, RH outer sill, RH wheel arch repair, LH inner wheelhouse, tool well, RH rear lower corner, New petrol tank.
Once repaired the car was rustproofed and every crevice clear wax oiled to help preserve all the hard work. The car then had several coats of two pack paint which still has a beautiful shine today.
Mechanically the car wants for nothing and is a pleasure to drive. The twin cam engine is incredibly sweet and responsive and always starts first turn of the key. As mentioned above we set up the carbs and ignition on our rolling road and it produced 115 bhp with the print out as proof. I can also confirm that it also has the correct (semi-close) ratio gearbox fitted as we have had this out of the car.
Altogether this is a great purchase for any enthusiast or collector, good examples of S2 cars are very thin on the ground and with the added bonus of the rare factory Anchor Blue colour you won't find another like it. Along with the proof of restoration I have a huge history file including bills/ receipts for maintenance over the years and various information of previous owners/ forum conversations including one high flyer owner who put the car in his office as an ornament/talking point.\
Any trial or inspection is welcome, if you have any further enquiries please feel free to get in touch via phone or e-mail.
£SOLD