Just in time for Summer!, Nutts Performance Classics are delighted to offer this beautifully original 1981 MGB Roadster presented in its original colour scheme of Russet Brown with Brown/Orange 'deck chair' style seats, this combination was very much of the period may split opinions but I think its great to see an original/unmolested colour scheme, this will undoubtedly help protect/increase the value of this iconic British Classic.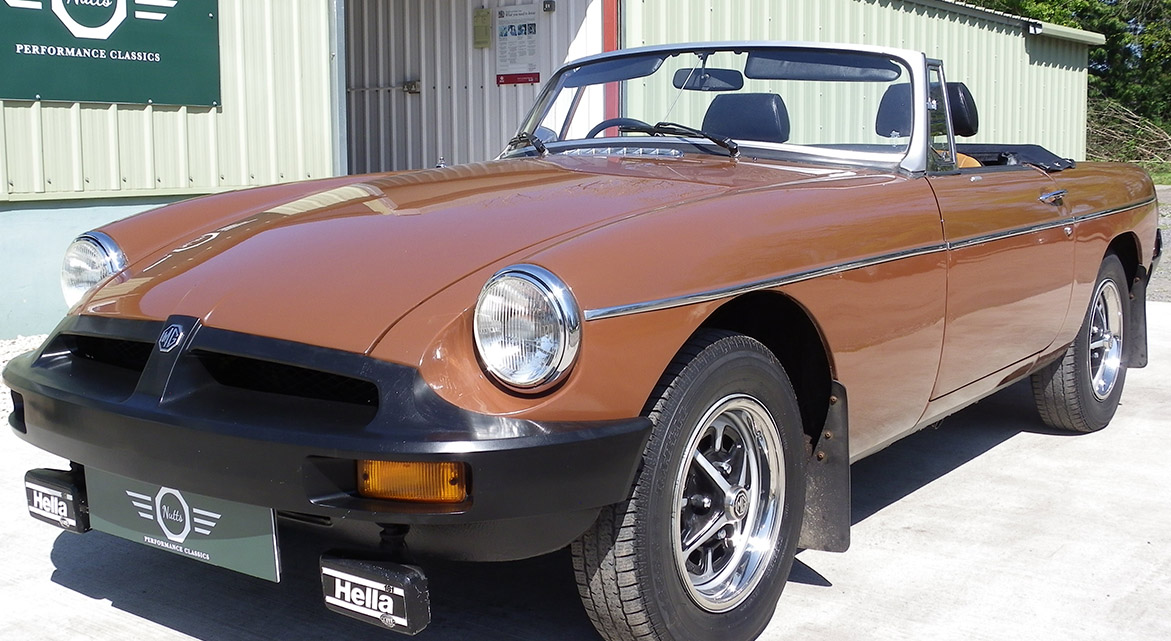 First registered on 01/08/1981 at PJ. Evans (Hill Top) LTD, West Bromwich and with just 2 former keepers in the logbook and a warranted 66,233 miles to date makes this car very special indeed. Clearly the car has been much loved and well maintained over the years and i can report it drives superb and benefits from a working overdrive in 3rd and 4th.
For peace of mind the car has been tuned on our in house rolling road including compressions checked, ignition timing and emissions. The engine pulls like a train and i have a print out to go with the car for anyone that might be interested.
The bodywork although not concourse is very straight and tidy and has a lovely shine with no visible rust spots. All seams and door shuts are very good. Structurally the car is sound and largely original, the underside has been waxoiled as further protection. Inside the boot and under bonnet are clean and tidy. Wheels have been recently refurbished. The hood was replaced last year. The seats, carpets and door cards are sound. I have the full tonneau cover with the car.
Altogether this Roadster represents excellent value for money and turns heads wherever you go. The price of the rubber bumper cars are slowly catching up the early chrome bumper models which are now £12,000 plus for one in the same condition as this so all in all a sound investment that can be used and enjoyed. Any viewing or test drive is welcome. I have taken a full set of pictures should anyone request them. Current mot on the car has no advisories and expires in January 2019.
To warrant the very low mileage i have every old mot certificate along with the original service book which has 4 supplying main dealer stamps up to November 1984. Also included is a history file with variuous recipts for general servcing and maintence over the last 10 years. A quick clculations indicated this car has averaged less than 2000 miles a year although in recent years this has dropped considerably. Looking back at the mot's would suggest this car has not been a daily driver since 1989.
'Like us' or 'Follow us' for exciting new cars coming soon at Nutts Performance Classics;
Any trial or inspection is welcome, if you have any further enquiries whether it be more detailed photo's or a video walk around of the car or a general question about the car or our services please feel free to get in touch via phone or e-mail.
SOLD
Share with your friends..