Nutts Performance Classics have the pleasure in offering this very unique 'Sleeper' Mini Clubman as featured in Mays addition of Mini Magazine. It was built by local Motorsport company 'Torques Performance' to an incredibly high standard with great attention to detail to maintain the standard/minimalist Clubman look, but underneath this Mini is far from standard!…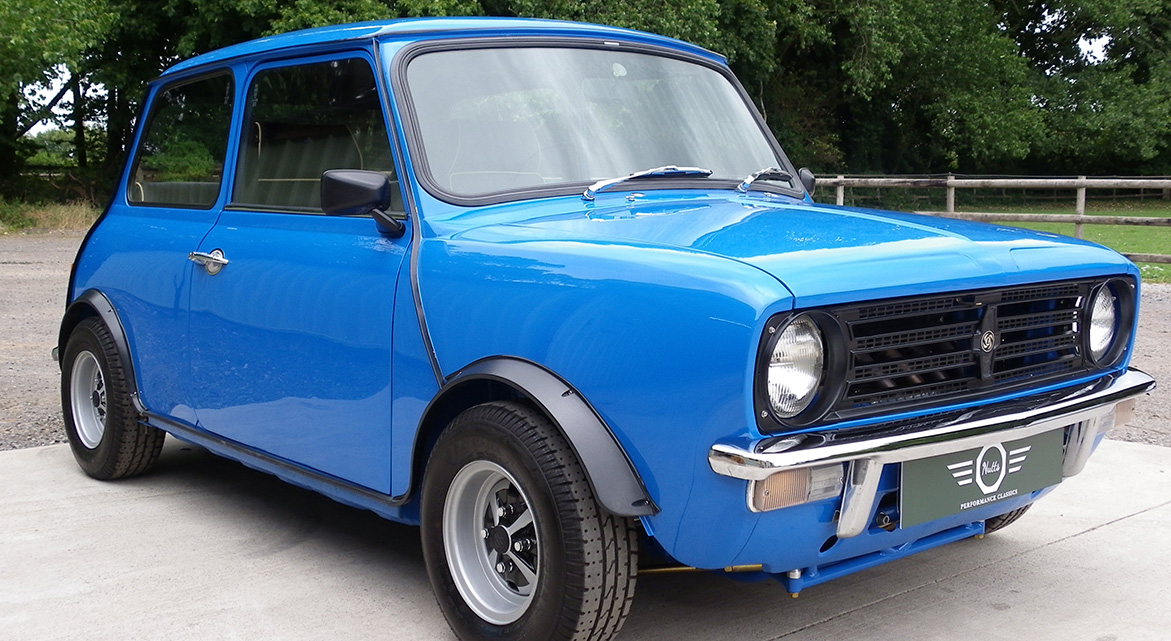 Bodyshell
The project started out as a very clean 1980 Mini Clubman, completely stripped and sent off blasting and acid etching. New panels then fitted included new floorpans, A-panels, rear valence, front wings and sills. The rest of the shell was fully seam welded before being painted in its original colour of Pageant Blue. Prior to painted the shell was coated in Bilt Hammer rust prevention. The glass is all original. For longevity all of the nuts, bolts, washers, hinges etc have been blasted and zinc coated.
Engine
998cc 20v DOHC 4XV YZF-R1 Superbike engine with Yamaha Fazer side draught carburettors. Proven 147bhp @ 9270 rpm as tested by us on our rolling road facility. Please visit our Facebook page for the footage of this;
The engine sits neatly in a modified Knights Performance Kit to keep all the panel work, front end and inner wings standard to maintain the Sleeper look. The 'off the shelf' kit usually relies on a heavily modified front end including a fiberglass flip front so a lot of time and effort has gone into this build to get it just right.
Transmission
Yamaha 6 speed sequential with Knights Motorsport electric motor reverse gear kit.
Suspension
Protech Coilovers front and Gaz Coilovers rear. All of the suspension is rose-jointed and fully adjustable. This has all been set up and corner weighted.
Brakes
Mini Sport 4 pot callipers front, Minifin drums rear with in-line pressure bias valve.
Interior
Minimalist and functional with period Corbeau seats, new carpet, door cards and headlining etc. The main instrument cluster is from the R1. Wiring loom was purpose built by Pro-motive.
Wheels and Tyres
10 inch reverse-rim Innocenti steels with 165/70/10 Yokohama tyres
Altogether what we have here is a very unique Classic Mini that has been redefined and reinvented, don't let its simple looks deceive you however, this is one seriously potent package and not for the faint hearted!
SOLD